In 2 minutes you get the result!
Soil compaction test with TERATEST 4000 STREAM is the ideal compaction test for construction companies because you get the results immediately on construction sites. With this Lightweight Deflectometer your own employees are able to do dynamic plate load tests on site in only two minutes. Without paying laboratory service – without loading vehicle as a counterweight and even in areas hard to access. Checking the natural soil, before construction begins, will avoid problems. Soil-improving activities will be neccessary before starting a construction site.
Measurements of soil compaction test can be made across the entire construction site in no time at no additional cost. And even in hard to reach places such as ditches or backfills. You optimise your compaction works, saving you money every day!
TERRATEST 4000 STREAM is the ideal soil compaction test in construction as there are: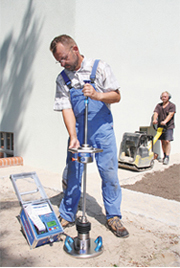 Earthworks
Road construction
Civil engineering
Sewage pipes
Power lines
Gardening and landscaping
Railway track construction
Construction of sports grounds